Discover more from Making Time
A newsletter for those who want to worry less about time and just make things. I write about creativity, hobbies, and overcoming my time anxiety.
Over 1,000 subscribers
Fall #3: When small things cause big feelings
PLUS: a granola recipe, DIY spooky candles, the downsides of comfort, and a song for sunday mornings.
Welcome to Fall, Issue #3 of Making Time. Each week, I share a seasonal perspective on the creative process. If you'd like to follow along on this year-long experiment, you can subscribe for free.
Recently, I had one of those little incidents in life that seems to trigger a level of stress completely out of proportion to what actually happened.
I'm sure this will be familiar to anyone who makes anything, ever. I was working on what was supposed to be a fairly easy sewing project, with a simple customization. I was also trying to film it for YouTube. Because my schedule is so packed, I had exactly one day to complete the whole thing, so I started early in the morning and worked almost without stopping.
Around mid-afternoon, I realized, to my horror, that I had completely screwed it up. The details aren't important, but I did the steps out of order and in such a way that I'd basically have to scrap all the footage, rip the project apart, and start all over again.
This triggered a complete panic, like a pot that had been bubbling on the stove suddenly boiled over. I barely had time to do it the first time. Where was I going to find another day (or more likely, two days) to do the whole thing over again? Why had I over-committed myself, yet again? When would things get easier?
In truth, this was a culmination of stress that had built up over time. The incident itself isn't really that big a deal, but it sure feels like it.
Once I'd calmed down a bit, I realized a few things about stress triggers like this one:
Recognizing that you are "overreacting" doesn't really help. You feel what you feel. Chastising myself for having big feelings about something seemingly small doesn't make it feel better.

Self-compassion does help. Practicing it is the hard part, especially when you're catastrophizing. There is a part of me that wants to panic.

The trigger usually points to something bigger. By paying attention to it, you can usually start to work on the real problem. In my case, what I really need to do is simplify my video creation process so I don't feel so rushed all the time. That's a concrete action I can take.
Failure is part of the process. I'd like to say that I always approach it with equanimity, but I don't. But I still always learn from it, like it or not.
What was your last stress trigger? Have you had a moment lately when things just boiled over?
---
Hey, I'm starting some new features! I wanted to add a little more structure, so I'm sharing a book, a recipe, and a DIY idea each week, in addition to the regular links. Plus, at the end, a song I'm playing on repeat.
Read, Cook, Make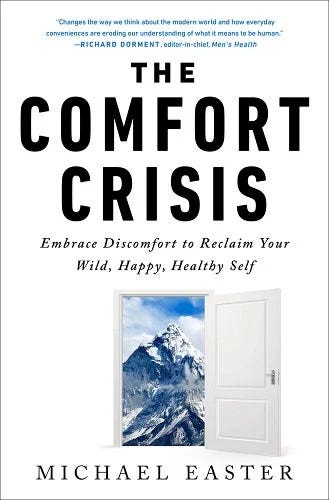 READ
I recently finished The Comfort Crisis by
, which I've wanted to read since hearing him on the
Outside podcast
. The premise is that our overly controlled, comfortable, sedentary lives enact terrible costs on our mental and physical health. It's mainly set against the author's experience on a month-long elk hunt in Alaska. When I told my brother about this book, he asked, "Who wrote this, Joe Rogan?" He kind of has a point, but it still made me consider the ways in which I invite discomfort into my life, and why.
COOK
This week, I made coffee-almond-coconut granola, inspired by the coffee caramel almonds I love from Trader Joe's. It's based on the Eleven Madison Park granola, which I almost always do some variation of.
Coffee Almond Coconut Granola
3 cups oats

1 cup almonds

1/3 cup raw pumpkin seeds

1 cup coconut chips

1/2 Tablespoon kosher salt (reduce if using table salt)

1/2 cup brown sugar

1/3 cup coconut oil

1/3 cup maple syrup

2 teaspoons instant espresso powder

dried fruit, to taste
Preheat the over to 300 F and line a baking sheet with parchment paper.

Mix oats, nuts, seeds, and salt in a large bowl.

In a small saucepan, mix brown sugar, coconut oil, maple syrup, and espresso powder. Heat while stirring occasionally until sugar has dissolved. This only takes a minute or two.

Pour over the oat mixture and stir to combine.

Spread oto the baking sheet evenly and bake for about 40 minutes. Let cool, then break up into large clusters and add any dried fruit you like (I used dried cherries for this batch).

Store in an airtight jar on the counter. It'll be gone before you know it.
MAKE
I came across this tutorial for DIY black beeswax candles on Remodelista. I love beeswax candles, but they can be pricey, so I'm seriously considering making my own now. They'd make lovely gifts too.
---
Head, Heart, Hands
Things to make us think, feel, and do.
---
Listen
A song for this week
I can't stop listening to Kris Kristofferson, and Sunday Mornin' Comin' Down is on repeat right now. Made famous by Johnny Cash, I love the writer's own version even more.
Thanks for reading Making Time. If you're new here, you can subscribe for free to receive new posts each week.