Discover more from Making Time
A newsletter for those who want to worry less about time and just make things. I write about creativity, hobbies, and overcoming my time anxiety.
Over 1,000 subscribers
Fall #4: Living your dharma
PLUS: Quince recipes galore, DIY felt ornaments, and entering the portal of middle age.
Welcome to Fall, Issue #4 of Making Time. Each week, I share a seasonal perspective on the creative process. If you'd like to follow along on this year-long experiment, you can subscribe for free.
This weekend, we hosted Stitchfest, an event in Portland for the Seamwork community.
I can't tell you what a pleasure it was to see some of you there. Tickets sold out within a day, and we had people travel from all over the country to join us. I hosted a panel discussion with local pattern makers, a live podcast taping, plus there were crafts, a sample sale, and a whole lot of great conversation.
I spent the day either on stage, or talking to new people. And despite the fact that I'm definitely a classic introvert, it was the most fun I've had in ages. I was wholly energized by it.
(That is, until I finally crashed, at which point I drove home and ate a bowl of ice cream in bed to soothe my poor vocal chords, unaccustomed as they are to talking that much.)
I recently finished reading Stephen Cope's book, The Great Work of Your Life. In it, he uses the teachings of the Bhagavad Gita as a framework for understanding the lives of many influential artists and leaders, from poets like John Keats to the activism of Susan B. Anthony, the life-saving bravery of Sojourner Truth to the compositions of Beethoven.
He also talks of "ordinary" lives, demonstrating the ways everyday people choose to live their dharma (or do not), and the consequences. He points out that many of us are so close to living our true purpose, that we only need to recognize it in order to fully commit to it. Without understanding it, it becomes easy to get swept away in the trappings of life and ignore what's actually essential to your fulfillment.
What I took from this book is that living your dharma is different from having a grand goal or a static vision of your future. There's nothing grandiose about it. It's about humbly tuning in to who you are, and allowing that to guide you. "You will know how to act when you know who you are," he writes.
On Saturday, I felt my dharma staring me right in the face. As one kind soul after another walked up to me, showed me something they'd made, asked me how Lucy is doing, told me about a friendship they'd formed, or just talked fabric with me, I felt it. As I watched the rest of the team work hard to make all this magic happen, I felt it. When I saw this community right in front of my eyes, defiant and happy, I felt that I was exactly where I needed to be.
---
Read, Cook, Make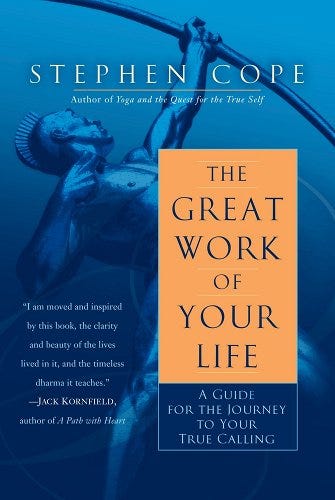 READ
In The Great Work of Your Life, Stephen Cope asserts that each of us has a purpose within us. Through the lens of the Hindu spiritual text, the Bhagavad Gita, he shows how we can uncover that purpose and find out who we really are.
COOK
I just harvested a quarter bushel of quince from our tree, the first harvest it's produced I think! This orange vanilla quince butter is calling to me. I'm also thinking of making quince sorbet, quince orange cardamom marmalade, Persian quince jam with rosewater, or a quince tarte tatin. Even more quince recipes here.
MAKE
Love these moon and start felt ornament kits. Wouldn't they be so pretty hanging from doorknobs this winter, maybe with some little bells? Or, if you have cats like mine, maybe skip the bells.
---
Head, Heart, Hands
Things to make us think, feel, and do.
I can never get enough William Morris, and loved Kelsey's take on the ethos of the Arts and Crafts movement.

When mindfulness meets capitalism, it loses its way. I'm not sure how I feel about this, as I think the author conflates the teaching of secular mindfulness practice with the co-opting of the term by completely unrelated commercial interests.

Are you in the portal? Anne Helen Petersen makes me excited to be a middle aged woman, I have to say.

Make some homemade ricotta! Making fresh cheese is incredibly easy and delicious, and ricotta goes with so many things. I like to spread it on sourdough with some olive oil and herbs for lunch.

I don't know if this Halloween DIY would look all that great on most houses, but this one is stunning. If I ever lived in a Victorian again (unlikely), I'd definitely paint it black.
---
Listen
A song for this week
I've been listening to the Rolling Stones all week for some reason, which reminded me of this cover of Dead Flowers by Townes Van Zandt, another favorite American songwriter. His voice really does this one justice, I think.
Thanks for reading Making Time. If you're new here, you can subscribe for free to receive new posts each week.