Discover more from Making Time
A newsletter for those who want to worry less about time and just make things. I write about creativity, hobbies, and overcoming my time anxiety.
Over 1,000 subscribers
Fall #5: 8 Lessons From This Year's Garden
PLUS: Scary stories, a life-changing book I just finished, and a song of sorrow.
Welcome to Fall, Issue #5 of Making Time. Each week, I share a seasonal perspective on the creative process. If you'd like to follow along on this year-long experiment, you can subscribe for free.
We had one of those precious October weekends wherein the sun is shining for two gloriously dry, crisp days. As bright and golden as it is, this is no time to relax and enjoy the last scraps of warmth for the year. We northwest gardeners know that a dry October weekend must be seized.
And that is what I did. I cut down all the dahlia stalks, removed piles of browning foliage for winter, planted bulbs for next year, and tore down all the summer vegetables. It's the end of the season and a good time to reflect on lessons from this year's efforts.
Here are 10 lessons I took from the garden, many of them applicable outside of it too.
1. Grow what you'll use
Why did I grow so much basil? I have no idea. Maybe because it's easy to grow. I also had way more beans than we could possibly eat, and many ended up going to seed. On the other hand, fresh lettuce was always in demand. Next year, I'd like to start planning by thinking about the ways I actually cook and eat instead of what I'm used to growing.
2. Beauty matters
I grew a few flowers mixed in with the vegetables, but I have room for plenty more. I always grow bright nasturtiums to throw in salads, and this year I mixed in some sweet peas too (don't eat those). Next year, I'd like zinnias, sunflowers, and other cheerful flowers mixed with the veggies. Why not add more beauty when you can?
3. Know when to fold 'em
When we lived in Portland, my favorite flowers to grow were English roses and tulips. Here in the country, they act as little more than a deer buffet. While you can fight nature to a certain extent (I've planted some roses behind the 8 foot deer fence that contains the vegetables), sometimes you also have to work with what you've been dealt. Next year, I want to invest more time into dahlias, which are spectacular and the critters mostly ignore.
4. Timing is everything
I really wanted sweet peas this year, but I got them in the ground rather late and didn't get many flowers. No matter how much effort you put in, if you don't get the timing right, it just doesn't work. Timing is everything.
5. Don't just plan. Capture.
I spend lots of time over winter planning out exactly what I want to grow, browsing seed catalogs, and scheduling out all the garden tasks well ahead of time. But nothing ever goes exactly to plan. Instead, I wish I'd spent more time writing down what I actually did, what worked, and what I'd like to do differently. Capturing my real experience is more valuable than all the planning (although it matters too).
6. Prune vigorously
Last winter, I took a class on pruning apple and pear trees, and it paid off. Our fruit were bigger and healthier this year, and the quince tree actually bore some fruit (though that might have more to do with age). Pruning is hard for me. And I don't just mean trees. It's difficult to cut away, but it really does help the remainder to flourish.
7. Protect the seedlings
Look, I worked hard to keep the critters away from my precious plants. We built an 8 foot deer fence. We buried rabbit fencing at the base. I installed hardware cloth under the beds to keep out the burrowing moles and voles and gophers. I have various methods for getting rid of slugs.
So of course after all that, the birds swoop in and eat all my tiny seedlings. Everything is vulnerable at this stage and needs much more care and protection than I thought.
8. Minimum viable planning
I love planning out my garden. I make complicated databases of all my seeds, with full schedules of what needs to be done when. But when it came time to use all of this well-organized information, I just felt too overwhelmed by the actual amount of work and all the other factors outside my control. Next year, I will simplify. The best system is the one you actually use.
---
Read, Cook, Make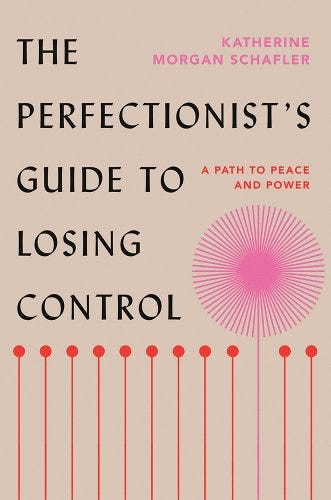 READ
I am just finishing The Perfectionist's Guide to Losing Control by Katherine Morgan Schafler and wow. This book blew my mind. I'm sure I will write about it more in the future, because it reshaped the way I relate to some of my strongest tendencies. I thought it would be about how to overcome perfectionism, but the message is much more powerful than that – how to live with who you are in a healthy, accepting way. It's both profound and practical. I highlighted a quarter of the book.
COOK
I've been pulling bowls of this coconut sweet potato lentil soup from the freezer for lunch and highly recommend you make some, double the recipe, and freeze some for later too. I also love to make this easy yogurt flatbread with it, which also happens to freeze well.
MAKE
I just came across these sweet crochet flower bookmarks which I think would make pretty gifts. You need to be able to read charts and/or Japanese, but it actually doesn't look that hard. Crochet is a seriously underrated craft. There's just so much you can do with it.
---
Head, Heart, Hands
Things to make us think, feel, and do.
---
Listen
A song for this week
My new sewing shed has a portable record player in it, and I love to put on some Nina Simone while I work. This song is full of sorrow and one I listen to over and over.
Thanks for reading Making Time. If you're new here, you can subscribe for free to receive new posts each week.